The BBL Group associates GENEO, which provides it with long-term resources to finance its growth.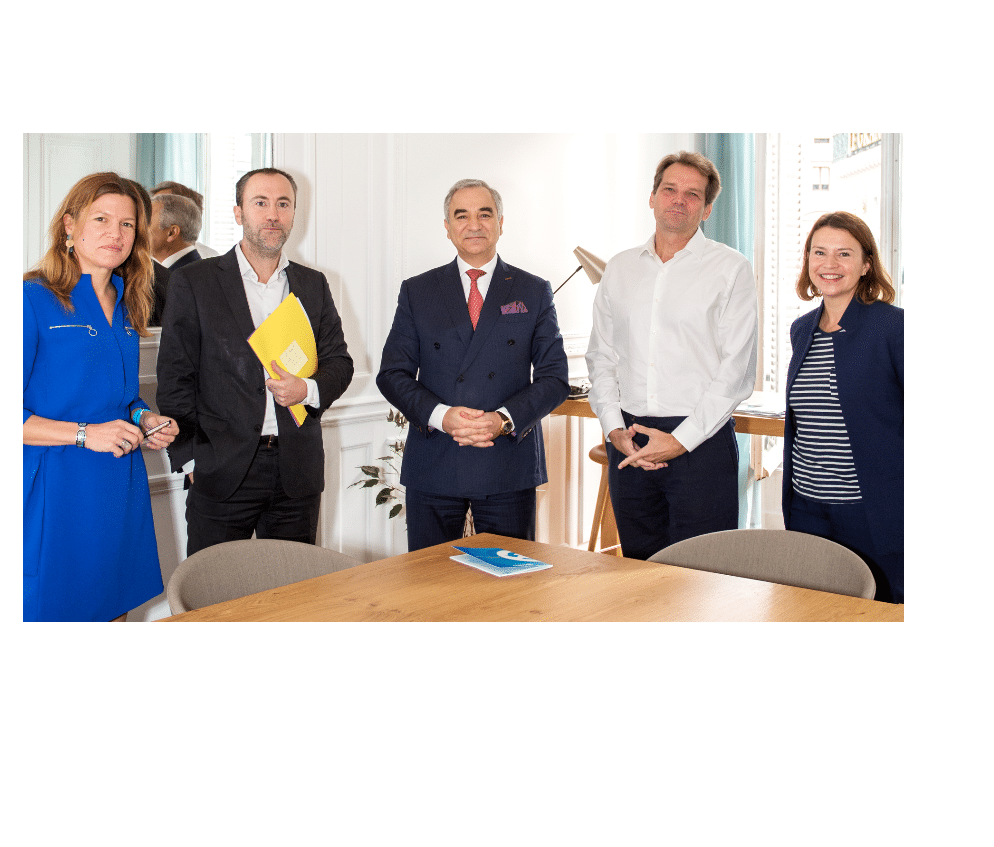 Saint Quentin Fallavier, Monday, October 12, 2020
On Thursday 8 October 2020, BBL Invest, the holding company of BBL Group, signed a capital agreement with the investment company GENEO Capital Entrepreneur. This operation for a total amount of 15 Million Euros strengthens the BBL Group's equity capital and provides it with long-term resources to finance its growth.
Kaci Kébaili, Chairman of the Group, and Christophe Besset, Chief Executive Officer, are united in their comments: "This is a significant fund-raising campaign for our Group, which will see its capital structure strengthened and will be able to resume its ambitious external growth strategy. Priority is now given to international acquisitions with the aim of strengthening our offer of integrated logistics solutions. ».
The majority of BBL Invest's capital is still held by its founder Kaci Kébaili and some twenty Group executives who increased their stake in 2020.
For GENEO, Delphine JARNIER also welcomes this investment: "The responsiveness and resilience of the BBL Group during the most difficult months of the crisis convinced us of the solidity of its business model and management. We are very pleased to see Groupe BBL join the GENEO community with this operation, one of the most important we have undertaken so far".
About BBL Group :
Created in 1997 by Kaci Kebaili, the BBL Group has built an original model of a federation of specialists that brings together some fifteen SMEs whose teams and brands are recognised for their particular know-how in the Group's four historical businesses: Contract Logistics, Overseas Transport, Road Transport and Groupage, Customs Commission.
This " Logistics Solutions Manufacturing " strategy emphasizes the coordination of specialized and autonomous teams committed to serving the supply-chain of their customers.
At the end of 2019, the BBL Group had nearly 650 employees and its turnover amounted to 194 million euros, up 40% compared to 2018. Recently, in June 2020, the acquisition of the Paris Region SME T.M.S strengthened the group's expertise in the field of sensitive freight (Luxury, High-Tech, Cosmetics, Chemicals).
More info at: www.groupe-bbl.com
Contacts:
Jean-Marc WILLIATTE / Mail: jm.williatte@groupe-bbl.com
Sylvain MERIENNE / Mail s.merienne@groupe-bbl.com
LinkedIn: https: //www.linkedin.com/company/bbl-transport/
Twitter: https://twitter.com/BBLGroupMarcom
Speakers:
Financial Advisors : Degroof Petercam (Franck Ceddaha, Antoine Tissier)
Lawyers BBL Group : FRIEH Associates (Michel Frieh, Amale El Fatmioui)
About GENEO Capital Entrepreneur
GENEO is an investment and support company that supports SMEs and ETIs in their development capital and transmission projects. It takes minority stakes in the capital of companies with sales of more than €10 million and operating income of more than €1 million. The form of investment company (rather than fund) allows for time management and the implementation of long-term strategies. Each invested company benefits from a personalised support programme, drawn up with the management team, which takes the form of a Growth Log.
The GENEO Community has recently increased its investment vehicle to more than EUR 200 million. This new mark of support from its investors validates the "evergreen" model that GENEO has carried since its creation.
"All of our energy is focused on one goal: helping companies go through cycles and grow. Bringing a new model of support and human capital. Sharing value is essential to us. »
More information: www.geneocapitalentrepreneur.com
Contacts:
Delphine Jarnier +33-6-81-20-53 delphine@geneocapitalentrepreneur.com
Fanny Letier fanny@geneocapitalentrepreneur.com
LinkedIn: https://www.linkedin.com/company/geneo-capital-entrepreneur/
Twitter: https://twitter.com/GeneoCapital
Speakers:
Financial Investors : GENEO Capital Entrepreneur (Delphine Jarnier, Louis Charrier)
Investor Lawyers : SVZ (Pierre-Emmanuel Chevalier, Natacha Baratier)