The merger of Stimulus and Psya gives birth to the European leader in psychological health at work.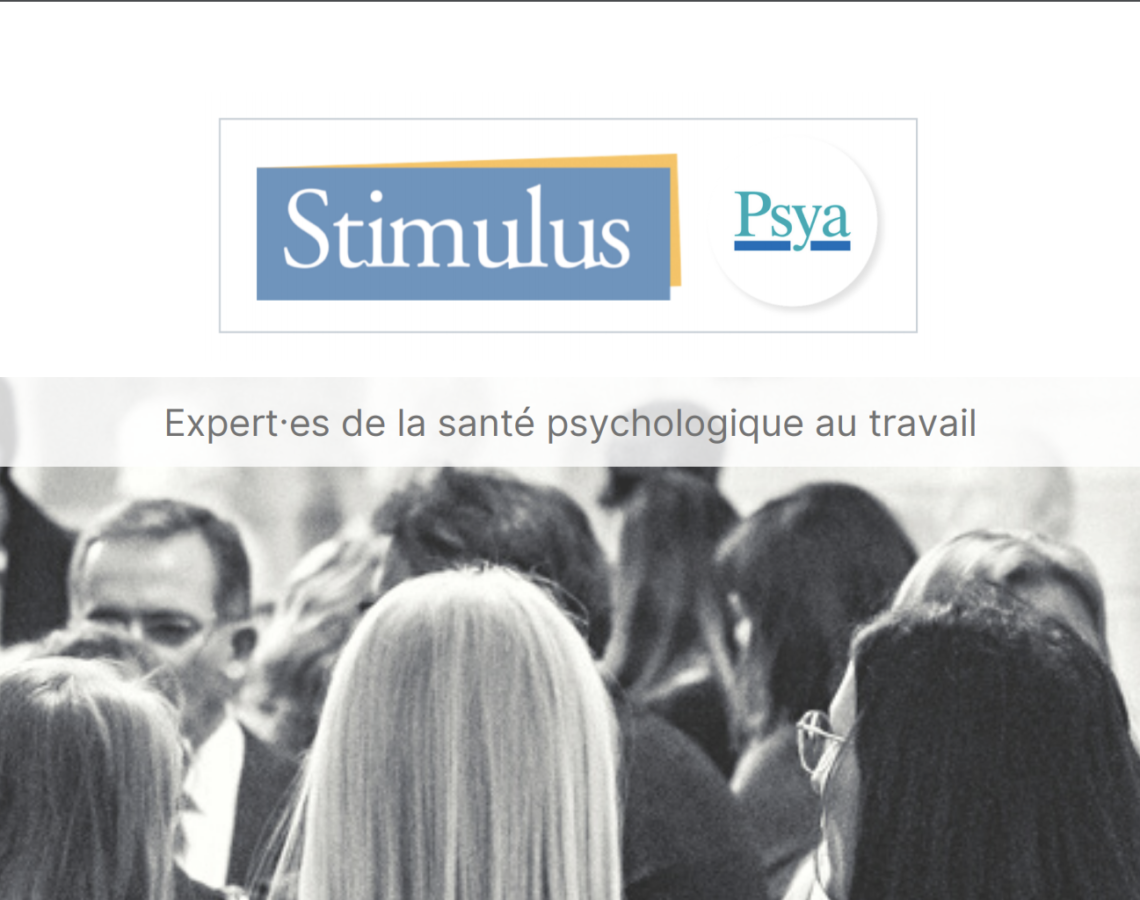 Paris, Wednesday 29 April 2020
The Human & Work Group announces the acquisition of Psya, the pioneer in psychological and social support.
This operation, which has been planned for a long time, brings together Stimulus and Psya, the two historical reference players in the field of psychological health in the workplace. Stimulus thus becomes the European leader in its market, with a N°1 position in France, Italy and Spain.
Under the leadership of David Mahé, Chairman and Emmanuel Charlot, Chief Executive Officer, more than 200 consultants committed to well-being and efficiency in the workplace, offer 1,000 European companies and their 8 million employees, both locally and internationally, unparalleled high-level expertise to assess and prevent psychosocial risks, support women and men in transformations, manage crises, develop emotional skills and deploy employee assistance programs.
The current health crisis further places psychological health at work among the main challenges for companies. In these uncertain times, executives, HR directors and managers are aware that the attention paid to their teams is the key factor in the survival and performance of companies. For several weeks now, massive teleworking, mental health and the maintenance of motivation have been concerns on which the success of the recovery and, more broadly, the cohesion of our society depend.
Armed with these new skills, Stimulus responds to the considerable challenges facing companies - their health, legal and media security, their capacity for transformation, productivity and development, their social responsibility and their social impact. In short, to make the most of the best of themselves: their human capital.
About Human & Work
Created in 2016 by David Mahé, Human & Work is Europe's leading human resources consulting group. Its vocation is to help companies take care of their teams by providing them with high-level expertise on the human being at work. Human and Work knows how to produce psychological health in companies, develop inclusion at work to give everyone a chance to succeed, boost the careers of managers and organise work in the best possible way to make it healthier and more productive.
About Stimulus
Founded in 1989 by Dr. Patrick Légeron, Stimulus is the benchmark player in psychological health in the workplace. Present in France, Italy and Spain, the firm assists European companies in their occupational psychological health policies, transformation projects, crisis management, strengthening their emotional and managerial skills and deploying services that make life easier for employees.
Stimulus is a member of Syntec Conseil and the FIRPS (Federation of Psychosocial Risk Workers).
About Psya
Created in 1997 by Jean-Marie Gobbi, Psya is a leader in the prevention of psychosocial risks (PSR) and in the improvement of the quality of life at work and the quality of personal life. Psya has been a privileged partner of health and provident insurers and companies since its creation, and assists its clients on an individual and collective level.
Press contact
Partisan, Régine Abolo email: regine.abolo@partisane.fr Tel: 06 61 62 83 69
Speakers
M&A Advisory: G2 Invest. Investors: GENEO, bpifrance and NCI. Banks: Caisse d'épargne Ile-de-France and Banque populaire Rives de Paris. Due diligence and legal advice: Joffe & associés. Financial due diligence: Advolis.