Kardham Group reorganizes its capital to accelerate growth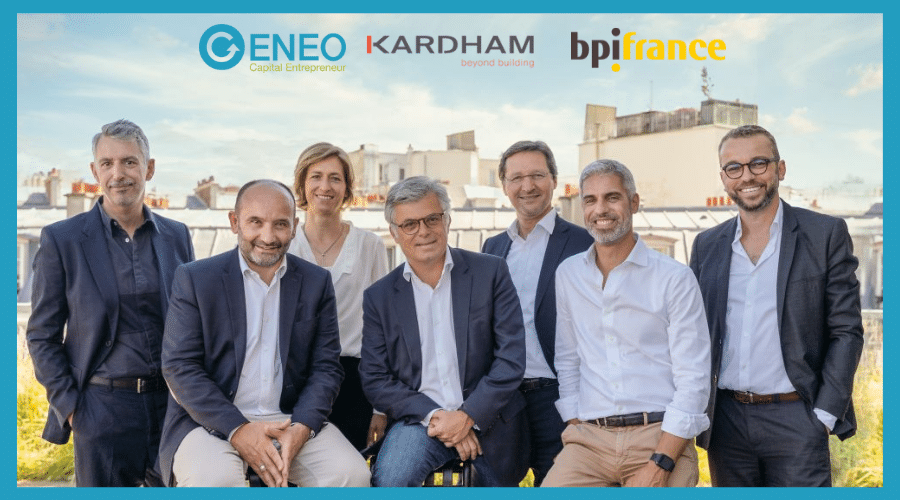 PRESS RELEASE 
Paris, October 26, 2023
On the occasion of its 30th anniversary, the KARDHAM Group, France's leading independent and integrated player in the professional real estate sector, announces that GENEO Capital Entrepreneur and Bpifrance are strengthening their presence in Kardham's capital, having been present alongside management since 2020 and 2016 respectively. This transaction provides the group with the human and financial resources it needs to support the acceleration of the major transformations underway in the global real estate industry: decarbonization and digitalization.
Founded in 1992, KARDHAM has gradually diversified to become a global operator in the design and management of real estate projects. With 600 employees in France, Germany, Spain, Portugal and Morocco, the group will achieve consolidated sales of 150 million euros by 2023.
Since 2020, Kardham has consolidated its position as an independent leader in the interior design of professional spaces, and has embarked on its European expansion with the acquisition of P.O.T. Beratungsteam GmbH and Gabiteco, now Kardham Deutschland and Kardham España.
In 2022, it was recognized as the 6th-largest architecture firm in France, and confirmed its position as a forerunner in Smart Building thanks to Kardham Digital, the first Digital Services Company (ESN) to emerge from the real estate and architecture industries. In this field, the Group has succeeded in transforming its initial ambitions and now employs 80 people dedicated to Kardham Digital, with an average annual growth rate of over 50%. The Consulting division is also expanding, driven by both internal dynamics and the merger with the Bluebird Immobilier team in December 2022.
Thanks to its various external growth operations, the Group brings together talented employees with a wide range of profiles and expertise in all areas of the real estate value chain: consulting, architecture and engineering, development and digital.
Its ambition is to continue consolidating its position as an independent leader in its markets by developing its areas of expertise through a controlled and targeted external growth strategy, with the aim of accelerating internationally (own presence in 5 countries and operations throughout Europe), in the digital sector, and by opening up new markets synergistic with its historical portfolio.
KARDHAM thus anticipates very strong growth prospects in the field of decarbonizing buildings, which promises to be a major trend over the next few years, against a backdrop of optimized work surfaces and smart building design. KARDHAM has completed a number of landmark projects, including BPCE's headquarters in the Duo towers in Austerlitz (Paris 13th), and the Well2 tower in Luxembourg, which houses the headquarters of Iko Real Estate and is dedicated to employee well-being and energy efficiency.
To support its sustainable growth, KARDHAM is strengthening its corporate governance under the leadership of Jean-François Couëc, with the extension of David Habrias and Roman Coste's responsibilities on the Executive Committee, and the appointment of new Managing Directors. In line with the value-sharing approach initiated over 10 years ago, the Group is also strengthening management's stake in its capital, through a new capital increase.
With all these external and organic projects, the Group aims to double in size within 4 or 5 years.
"Thanks to the renewed confidence of our customers, the enthusiasm of our managers and employees, the complementary and strategic support of GENEO Capital Entrepreneur, Bpifrance and our main banking partners (Crédit Agricole Alsace Vosges, Groupe Crédit Mutuel), after almost doubling our business over the 2019-2023 period, we are ready to accentuate our footprint in France and accelerate it in Europe, while implementing an ambitious Sustainable Development/CSR/Innovation strategy," Jean-François Couëc, Chairman of the KARDHAM Group, is delighted to say.
François Picarle, Partner at GENEO Capital Entrepreneur, adds: " We have been involved with KARDHAM since February 2020, and we are proud to be able to support the acceleration of the company's development alongside a management team that has demonstrated its ability to deliver a sustainable growth trajectory despite a turbulent environment over the past 3 years. In particular, KARDHAM's ambitions in terms of digitalization and decarbonization of the building industry, serving new uses for workspaces, the safety and well-being of employees and more sustainable cities, constitute a strong impact approach ".
Axel Piriou and Vincent Charles, on behalf of Bpifrance, said: " We are delighted to support the group in its new phase of growth and internationalization, and the development of its expertise in meeting the new challenges of professional real estate.
INTERVENANT
Investors
GENEO Capital Entrepreneur (François Picarle, Marie Kirch), Bpifrance Investissement (Axel Piriou, Vincent Charles),
Legal advice to management
Bolze et Associés (Eric Bolze) - Financial advisor Managers : G2 Invest (Guillaume Somekh)
Investor legal counsel
Joffe & Associés (Romain Soiron, Aymeric Dégremont, Paddy Pascot) - Financial due diligence: Advolis (Damien Bourg, Marion Bernadou).
PRESS CONTACTS
Kardham
Nathalie Neyret, Marketing & Communication Manager - nneyret@kardham.com - 06 37 68 50 99
Moreno Conseil, Clara Moreno, Press Officer - clara@morenoconseil.com - 06 12 56 70 07
GENEO
Cyrille Lachèvre - c.lachevre@verbatee.com - 06 20 42 12 08
Barbara Baudier - b.baudier@verbatee.com - 06 68 53 28 49
Bpifrance
Raphaëlle Renaudin - raphaelle.renaudin@bpifrance.com - 06 58 53 89 76
 * * * *
About KARDHAM KARDHAM GROUP:
Because real estate doesn't stand still, Kardham co-constructs the future of cities, businesses and organizations by mastering transformations. Whatever your sector of activity, we can offer you a full range of real estate services. Experts in consulting, architecture, space design, engineering and digital solutions, our 600 employees provide local support for more than 2,000 small and large-scale projects every year, creating sustainable, shared benefits.
For Kardham, whether in France or abroad, a great project is first and foremost a great story.
#beyondbuilding
More info at: www.kardham.com
LinkedIn: https://www.linkedin.com/company/groupe-kardham/
X @Groupe_Kardham
About GENEO GENEO Capital Entrepreneur :
GENEO Capital Entrepreneur's raison d'être is to provide the real economy with positive finance that reconciles performance and meaning.
Designed to unlock the potential for value creation, job creation and impact of SMEs and ETIs, GENEO Capital Entrepreneur has nearly 600 million euros at its disposal. It manages in particular :
- GENEO Capital is an evergreen investment company with a 99-year lifespan, majority-owned by families and entrepreneurs. GENEO provides tailor-made capital that adapts to the pace of each company, ensuring responsiveness and flexibility. Its resources increase regularly as GENEO and the companies it invests grow.
- The GENEO Mezzanine fund: a positive-impact mezzanine fund for ETIs and large SMEs, with a team specialized in impact transformation. This fund makes it possible to provide genuine quasi-equity (not counted in debt ratios) without opening up companies' capital, and to support them in their development and impact disruption while offering financial incentives s
As a business partner, GENEO mobilizes its teams and specialized business partners (external growth, positive impact, digital and innovation) to support the execution of structuring, growth and transformation projects. It also boasts a platform of over 140 independent experts and a community of nearly 200 families and entrepreneurs, offering a unique opportunity to share experiences and build a business network unmatched in France. The terms of this operational support are tailored to the specific needs of each company, and formalized jointly by the GENEO team, the management team and the company's other shareholders in a "Carnet de croissance".
Passionate about those who make, create and want to move the lines, the only ambition of the GENEO team is to bring the ambition of each entrepreneur to the top.
At GENEO, when we invest, we invest!
Further information: https://geneocapitalentrepreneur.com-
LinkedIn: https://www.linkedin.com/company/geneo-capital-entrepreneur
About Bpifrance about Bpifrance :
Bpifrance's equity investments are made by Bpifrance Investissement. Bpifrance finances companies - at every stage of their development - in credit, guarantees and equity. Bpifrance supports them in their innovation projects and internationally. Bpifrance also ensures their export activity through a wide range of products. Consulting, university, networking and acceleration programs for start-ups, SMEs and ETIs are also part of the offer proposed to entrepreneurs. Thanks to Bpifrance and its 50 regional offices, entrepreneurs benefit from a close, unique and efficient contact to help them face their challenges.
For more information: www.Bpifrance.fr - Follow us on X (ex-Twitter) : @Bpifrance - @BpifrancePresse