GENEO participates in the HOPPEN adventure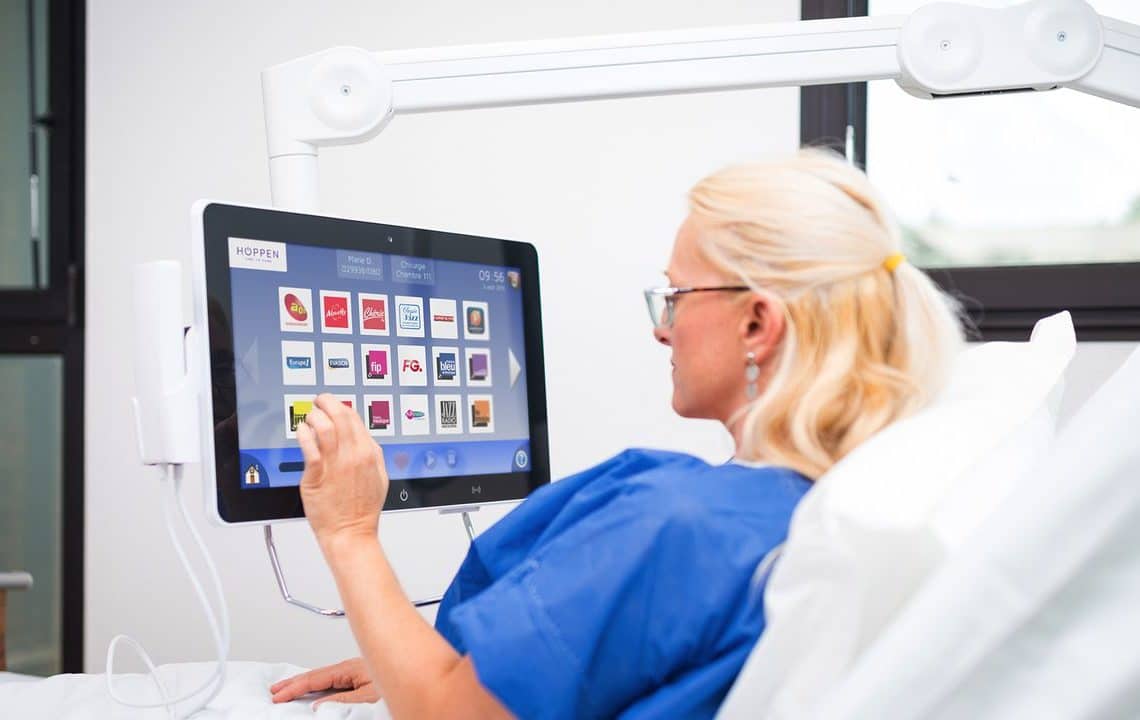 HOPPEN, the expert in digital transformation of healthcare institutions, is carrying out a €32 million transaction and acquiring Télécom Services, the leading operator of digital TV services for hospitals, to create the market leader.
This strategic alliance, led by HOPPEN, with the support of two new investors, EXTENS and GENEO Capital Entrepreneur, its historical shareholders (Kreizig Invest, Logoden Participations, Unexo, Breizh Up, Crédit Agricole Ille and Vilaine Expansion) and a banking pool, aims to support hospitals and clinics in their digital transformation.
In a context of accelerating the government's digital shift, this merger and the associated resources will enable HOPPEN to help healthcare institutions achieve their objectives and achieve this digital shift in France and Europe.
HOPPEN and Télécom Services, a perfect complement to the digitalization of private and public health and care institutions.
"We are delighted to work with Pascal Wagener and his teams, who have a perfect knowledge of the public market in which they have been operating for 25 years. It was a great opportunity for us to join forces with the expertise of France's leading operator of digital and TV services in hospitals. The perfect complementarity of our services, our collaborators, and our approach to the market, greatly facilitates the integration of Telecom Services into HOPPEN: we are now present in the private sector as well as in the public sector, the marriage is perfect! We all share the same desire to support healthcare institutions in their digital transformation! "says Matthieu Mallédant, President of HOPPEN
HOPPEN develops software solutions in collaboration with healthcare institutions in order to provide concrete answers to the major challenges of the French healthcare system. The Rennes-based company, created in 2011 by Matthieu Mallédant and Sébastien Duré, offers a range of digital solutions that improve patients' services and comfort, facilitate their care pathways, optimize internal processes and simplify their daily lives. The offers are organized around 3 poles: the Connected Room, the Ambulatory Route and the Patient Experience.
The new HOPPEN group is headed by Matthieu Mallédant, its President, supported by two General Managers, Sébastien Duré, co-founder of Télécom Santé and Pascal Wagener, formerly President of Télécom Services.
The activity is divided between the two sites of Rennes and Nanterre, and HOPPEN now employs 300 people, while keeping more than 200 people seconded to the healthcare institutions. HOPPEN, which has 25 years' experience in hospitals, operates 150 sites, both public and private.
The objective: to create the champion of the digitalization of health care institutions, in a market that represents a very strong growth driver.
"The market is only beginning to structure itself, the creation of synergies is essential, which is what we are doing thanks to this merger with Télécom Services" says Sébastien Duré, co-founder and CEO of HOPPEN.
HOPPEN relies on a solid asset base and aims to create the champion for the digitalization of healthcare institutions. The Telecom Services assets represent a tremendous growth accelerator for the HOPPEN group. Together the two companies will form a group with a critical size and a unique offer on the market.
Pascal Wagener, CEO of HOPPEN explains: "A common vision of digital technology for the benefits of the health sector has naturally enabled us to get closer together, and to be able to make proposals to support our customers more effectively from tomorrow onwards".
Matthieu Mallédant adds: "The trust placed in us by EXTENS and GENEO Capital Entrepreneur, as well as the loyalty of our historical shareholders (Logoden participations, KREIZIG INVEST, UNEXO, BREIZH UP and Crédit Agricole Ille et Vilaine Expansion) and our banking pool (BPGO, Crédit Agricole, Arkéa and Caisse d'Epargne), represent an extraordinary opportunity for HOPPEN to accelerate the development, in France and abroad, of its connected room concept in countries that accelerate their investments in health. »
"We are delighted to support this industrial project, at the heart of e-health, which brings together 300 people dedicated to the digital transformation of healthcare institutions. We are helping to establish France's leading operator of digital services in hospitals with a highly innovative offer to support patient reception and the quality of work of healthcare professionals. "says Dominique Mercier, Partner of the Extens fund.
"We are proud to support HOPPEN and its managers in their ambitious industrial project to become a major player in the e-health market, particularly in services for patients and staff.
We will fully mobilize the GENEO Capital Entrepreneur community of experts and entrepreneurs to deploy a Growth Booklet and support HOPPEN's teams in achieving their French and European ambitions. "said Delphine Jarnier, Associate Director of Investments at GENEO Capital Entrepreneur.
The representative of Oxylis, the seller of Télécom Services, concludes: "We are delighted that Télécom Services is joining such an entrepreneurial adventure, which will perfectly complement its know-how and offer it new perspectives. »
Technical sheet Speakers :
EXTENS: Valentine Deramecourt, Dominique Mercier, Quentin Jacomet
GENEO Capital Entrepreneur: Delphine Jarnier, Louis Charrier
Kreizig Invest: François Héry
Breizh Up: Stéphane Lefevre-Sauli
Unexo: Mélanie Hébert
Crédit Agricole Ille et Vilaine Expansion: Nicolas Orhon
Business Angels: Jean-François Gautier
Fundraising and acquisition advice: RYDER & DAVIS (Alexis Delb, Frédéric Danel)
Advising assignor :

DDA & Company (Alexandre Odin, Nhu Quynh Golder)
DPS (Maître Sébastien Poniatowski and Marie-Astrid Nicol)
ACA NEXIA

Corporate legal advice, fundraising and acquisition:

CHAMMAS & MARCHETEAU (Nicolas Lecocq, Romain Penloup, William Ducrocq)
AVOXA (Lauriane Bobille)

Legal advice for investors:

CHAMMAS & MARCHETEAU (Nicolas Lecocq, Romain Penloup, William Ducrocq)
PDGB Lawyers (Roy Arakélian, Olwen Collomb)
ALTAÏR Lawyers (Tessa Parodi De Schonen, Matthieu Rollin)
APOLLO Avocats (Guillaume De Ternay)

Financial and legal due diligence HOPPEN: D'ORNANO & Associés (Raphaëlle d'Ornano, Nicolas Bayle, Victoria Meddah, Lauriane Miel Gautier)
Strategic due diligence HOPPEN: FOCUS STRATEGY (Jérôme Taïeb, Annick Delecroix)
Due diligence IT HOPPEN : MAKE IT WORK (Frédéric Thomas)
Due Diligence juridique Télécom Services : AVOXA
Financial due diligence Telecom Services: DELOITTE
Banking pool: BPGO, Crédit Agricole, Arkéa, Caisse d'Epargne