GENEO supports Scutum in its development and its positive impact plan with €55 million in quasi-equity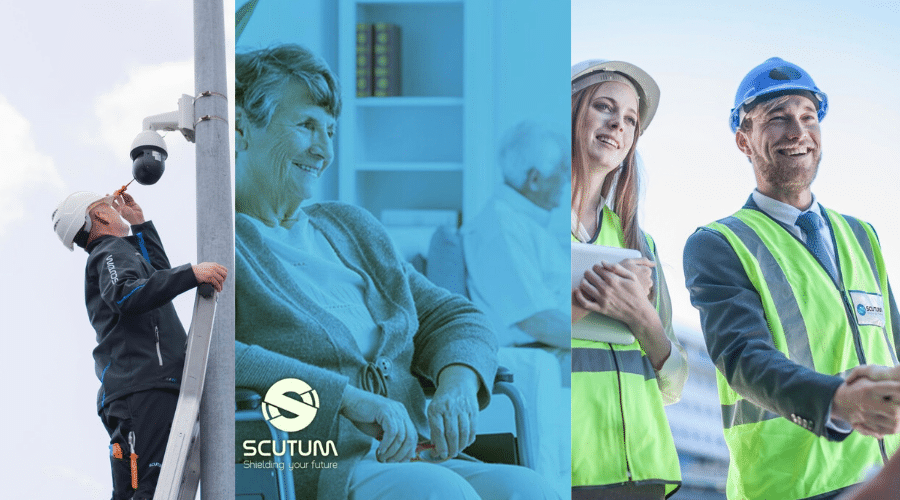 PRESS RELEASE
Paris, 23/02/2023
GENEO Capital Entrepreneur supports Scutum in its development and its positive impact plan with €55 million of quasi-equity.
Founded in 1989, the Scutum Group has become one of the leaders in safety and security in Europe, providing technological solutions for protection and risk prevention, particularly through turnkey services for security, remote surveillance and fire detection. Chaired by Franck Namy, the group wanted to rely on GENEO Mezzanine to support its external growth and its transformation towards impact.
The quasi-equity financing round formed by GENEO is for a total amount of €55 million, and is also composed of Kartesia, Caisse d'Epargne Ile-de-France Mezzanine, Arkea and Financière de la Rivière.
This operation will allow Scutum to continue its international growth through external growth operations, an area in which it has demonstrated a great deal of expertise over the past few years, and to accelerate its projects in the field of environmental and societal impact:
- Improved employee safety in the workplace (reduced number of safety incidents)
- Maintaining dependent people at home by optimizing their health (prevention of falls)
- Reducing the carbon footprint of Scutum and its customers by offering a service with the lowest possible carbon intensity (CO2 emitted / customer) (Eco-design of equipment, optimization of upstream logistics, remote maintenance, reuse or recycling of equipment, etc.)
"We are delighted with the partnership with GENEO, which provides the company with a financial tool that, while preserving its shareholder integrity, allows it to accelerate its trajectory towards impact," said Franck Namy and Stéphane Gaidier, respectively Chairman and Deputy CEO of Scutum.
"We are very pleased to participate in Scutum's development by arranging financing that is fully in line with our ambition to support growing SMEs that are leaders in their market and to accompany them in their transformation towards impact, says Mathilde Paoli, Managing Partner of GENEO Capital Entrepreneur. "Our team is fully committed to working with Scutum's management to achieve this ambitious impact plan, which combines social and environmental aspects, and includes promising areas of innovation in addition to the acceleration of projects already initiated.
* * *
About the company Scutum
Founded in France in 1989 and chaired by Franck Namy, Scutum is a major international player in turnkey safety and security services for infrastructure, goods, people and data, thanks to its European platform for processing and analyzing critical information - Smart Security Platform (SSP) - which has around 340,000 connected sites worldwide.
The group has a worldwide network of 70 offices in Europe and North America (New York and Florida regions), with 2,250 employees, including 900 technicians who continuously install and maintain the systems and 200 remote monitoring operators for 24/7 protection.
The Group is in continuous organic and external development, and has already completed more than 30 external growth transactions since 2015. It has developed a robust and efficient integration process, which is implemented with each acquisition.
About the management company GENEO Capital Entrepreneur 
GENEO Capital Entrepreneur's raison d'être is to make positive finance available to the real economy.
Designed to reveal the potential for value creation, job creation and impact of SMEs and SMIs, GENEO Capital Entrepreneur has nearly 600 million. It manages the evergreen investment company GENEO Capital, which has a 99-year lifespan and is majority-owned by families and entrepreneurs. GENEO thus provides tailor-made capital, which adapts to the pace of each company and provides responsiveness and flexibility. Its resources increase regularly as GENEO and the companies it invests develop.
As a business partner, GENEO mobilizes to provide support for the execution of structuring, growth and transformation projects thanks to its teams, but also its specialized "business partners" (external growth, positive impact, digital and innovation). It also has a platform of more than 140 independent experts and a community of nearly 200 families and entrepreneurs, offering a sharing of experience and a business network unprecedented in France. The terms of this operational support are adapted to the specific needs of each company and formalized jointly by the GENEO team, the management team and the other shareholders of the company in a "Growth Book".
Passionate about those who make, create and want to move the lines, the only ambition of the GENEO team is to bring the ambition of each entrepreneur to the top.
At GENEO, when we invest, we invest!
For more information: www.geneocapitalentrepreneur.com
https://twitter.com/GeneoCapital
https://www.linkedin.com/company/geneo-capital-entrepreneur
https://www.youtube.com/channel/UChZh_aqfqG-v9ANGWlLY2Tw
Operation Scutum stakeholders:
Investors :
GENEO Capital Entrepreneur (Arranger and member of the financial and impact committees): Mathilde Paoli, Ophélie Diss, Antoine Itty, Yohan Lellouche,
Kartesia : Julien Rigon, Marie Mayau,
Caisse d'Epargne Île-de-France Mezzanine: Anthony Tremblin, Philippe De Oliveira, Guillaume Guin,
Arkea : Eric Gaulier, Marc Lopet,
Financière de la Rivière : Didier Namy.
Investor Advisory: SVZ (Emmanuelle Vicidomini, Benjamin Kermarec)
Scutum Counsel: Bredin Prat (Karine Angel, Samuel Pariente, Cyril Courbon, Mathieu Arnault), Pierre Colin
Press contact:
Verbatee Agency:
Cyrille Lachèvre
06 20 42 12 08 - c.lachevre@verbatee.com